Messages and notification
Messaging and notification features for staying organized and informed
As a manager, you can send important updates or announcements to members with customizable notification settings, and members can easily communicate with each other using the chat function. Never miss an important update and streamline your communication for a more efficient team with our TennisPlus management software application.
Court times booking proposals
Integration with other modules within a TennisPlus solution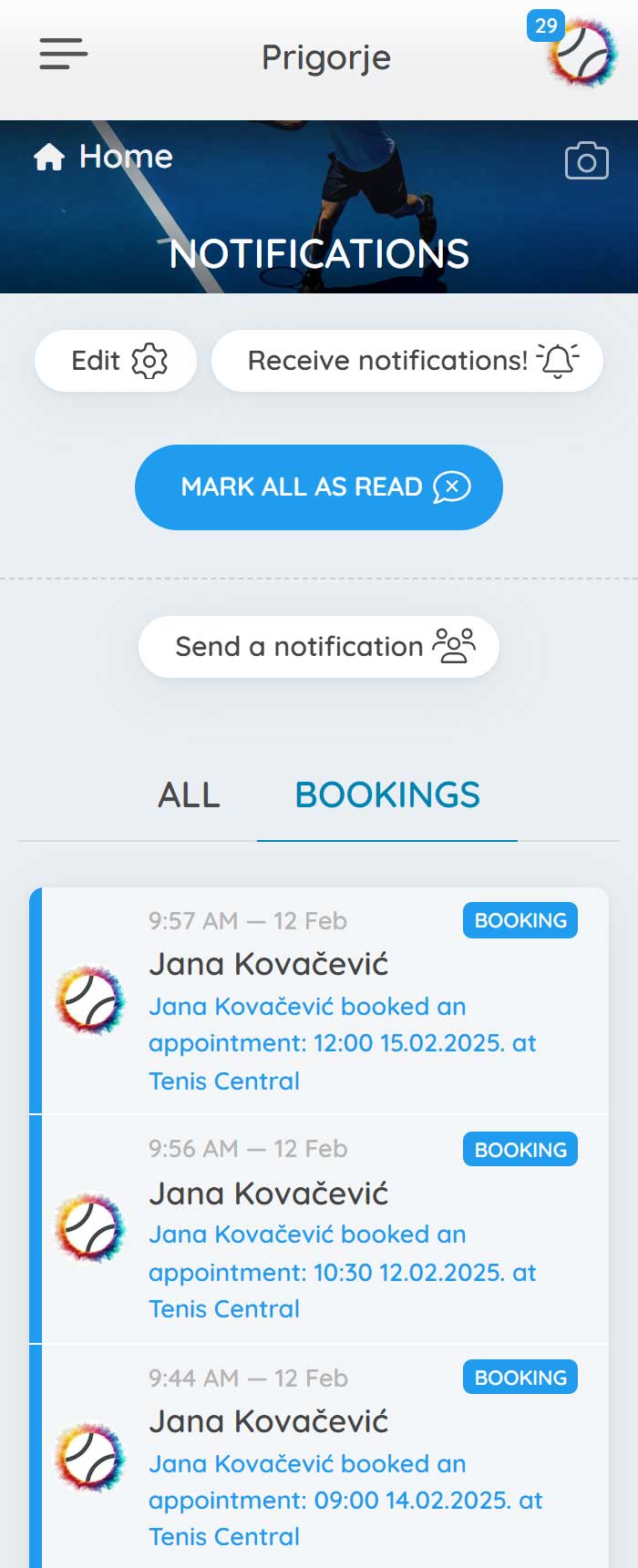 Fully integrated, our messaging and notification features make it easy to communicate with team members, coaches, and school groups. Whether you need to send a quick message or send an important update, our software makes it simple to keep your members connected and informed. The user-friendly interface makes it easy to use, so you can focus on managing your team. Try our software today and see the difference it can make for your club or team's communication and coordination.
Main features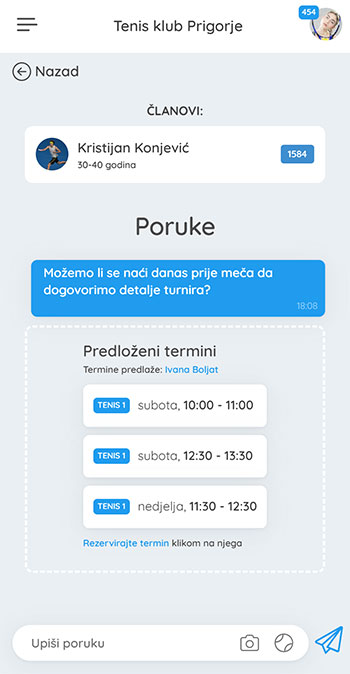 Court times booking proposals
With the ability to view availability and specific times, members can easily find open slots and propose them to other players via the chat. Once a time is agreed upon, the booking is automatically made and both players are notified.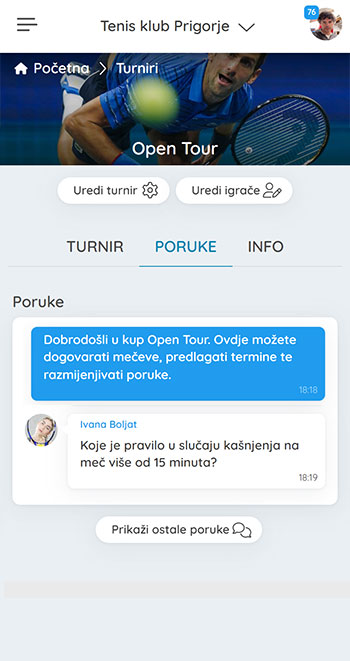 Seamlessly integrated messaging and notification system
With just a few clicks, you can send a message to keep your team, league group, or tournament participants informed and connected. The system automatically creates threads for every competition and school group you create, eliminating the need to manually set up messaging channels.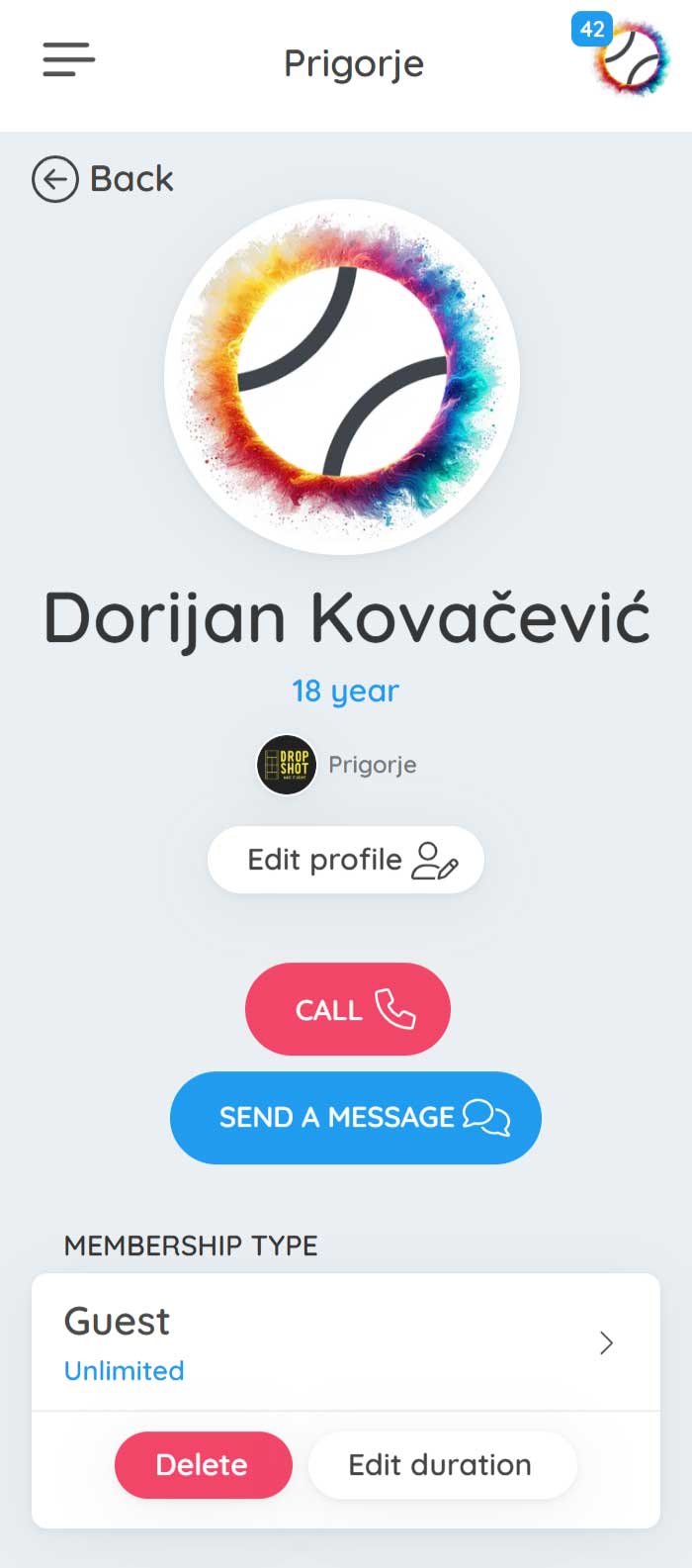 Find match partners
Our software makes it simple to find the right match partners in terms of age and game level, so you can take your game to the next level. You can then easily send a message to connect with the player directly.

Notification center
You can see all of your messages in one place, giving you an overall picture of what's going on. Plus, you can customize your notification settings to ensure that you only receive the updates and announcements that are important to you. With the notification center, you'll never miss an important update and you'll always be in the loop.

Rain notification
TennisPlus application has a feature that allows you to easily send alerts to members who have booked tennis courts if bad weather is on the horizon. This helps to ensure that players are not caught off guard by unexpected rain, and you can make the most of your tennis court time.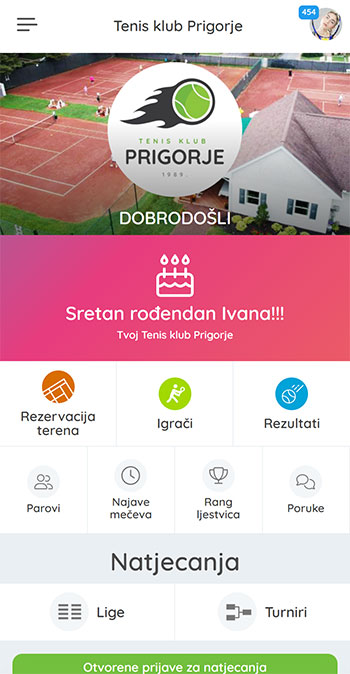 Happy birthday!
The system automatically displays birthday greetings in the name of the club, adding a personal touch and showing your appreciation for your members. This small gesture can go a long way in building a sense of community and making your members feel valued.
...and more
With TennisPlus, you can relieve yourself of the tedious tasks of club management and focus on what really matters - growing your club and improving the experience for your members. Try our app today and see how it can help you manage your club more efficiently.