Analytics & Reports
Track and analyze club performance with a range of reports
Our Analytics & Reports module provides a range of tools to help you track and analyze the performance of your club. With customizable reports, you can easily see how your club is doing in terms of revenue, membership, and more. Whether you want to track your club's financial performance or see how your tennis courts are being used our software has you covered.
Dashboard with real-time data
Court usage and occupancy reports
Member and coach attendance reports
Sales and inventory reports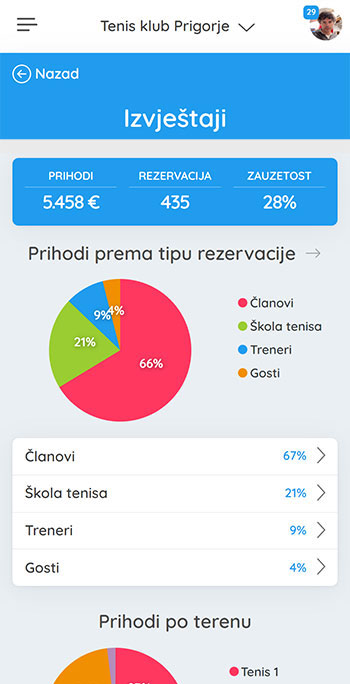 TennisPlus tennis court booking module is a specialized solution developed specifically for tennis clubs. It is tailored to the needs of tennis clubs and omits unnecessary features and options that are not relevant. With its user-friendly interface and advanced features, TennisPlus makes it easy for tennis clubs to manage their bookings and optimize their operations. Whether you are a small club with a few tennis courts or a large facility with multiple tennis courts and a high volume of bookings, TennisPlus is the perfect solution for managing your tennis bookings and ensuring a smooth and efficient experience for your customers.
Main features
Financial reports
Our software includes a dashboard that allows club managers to easily track and analyze financial data. The dashboard provides a range of reports, including income broken down by tennis courts and other services, money handled by each staff member, and overall income for a defined time range. This feature is designed to help club managers have a clear and accurate understanding of their club's financial performance, enabling them to make informed decisions and optimize their operations.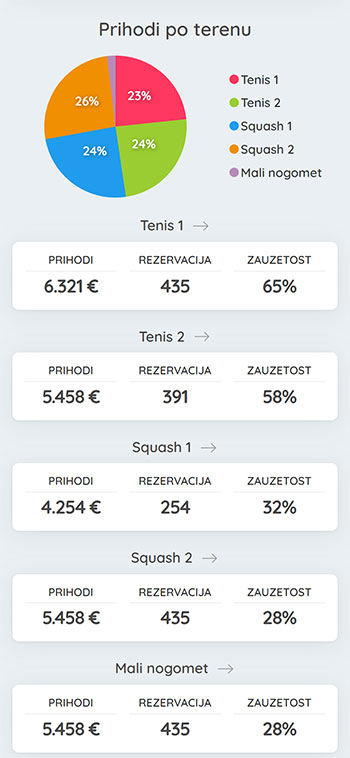 Revenue tracking
You can see how much revenue each tennis court has generated over a specific time period. This information can help you optimize tennis court schedules and pricing, ensuring that you are making the most of your facilities.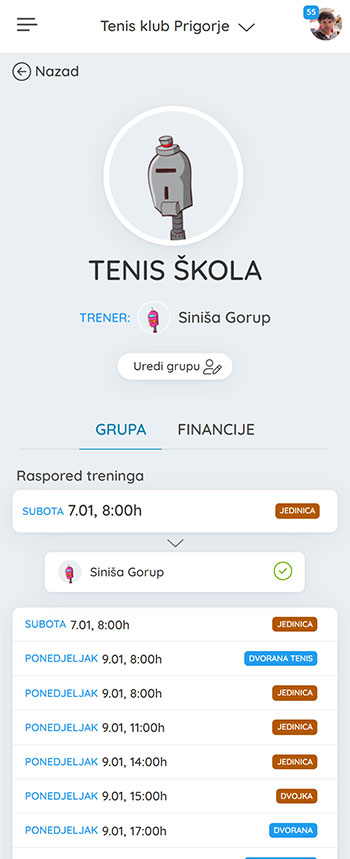 Member and coach attendance reports
Track attendance for school group members and coaches. This helps you to keep track of who is attending each session and whether there are any no-shows or cancellations.
Learn more
...and more
With TennisPlus, you can relieve yourself of the tedious tasks of club management and focus on what really matters - growing your club and improving the experience for your members. Try our app today and see how it can help you manage your club more efficiently.